The Authors of Raising a Sensory Smart Child
Lindsey Biel, M.A., OTR/L (left ) is an occupational therapist specializing in pediatrics. Through her private practice in New York City and the NY State early intervention program, she works with infants, toddlers, and older children with sensory processing disorder, developmental delays, autism spectrum disorders, learning disabilities, and other challenges. She is a popular speaker, teaching workshops to parents, teachers, therapists, doctors, and other professionals across the country, and a contributing writer for Autism Asperger Digest Magazine.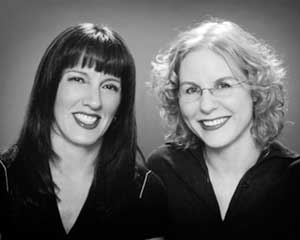 Nancy Peske (right) is a freelance writer, editor, and the co-author of the Cinematherapy series which has sold over 270,000 copies and inspired a TV show on Women's Entertainment. Formerly an editor in the trade division at HarperCollins, she has co-written, ghostwritten, and edited several bestselling books in the areas of spirituality, inspiration, health, and psychology. She lives in Shorewood, Wisconsin with her husband and son, diagnosed with SPD and several developmental delays.
Dr. Temple Grandin, who wrote the foreword, is Associate Professor of Animal Science at Colorado State University and is a person with autism. She is the author of Thinking in Pictures and other bestselling books. You can find out more about Dr. Grandin on her website.
Speaking Engagements
For more information on booking speaking engagements, please email us. Here is a list of Lindsey's speaking engagements.